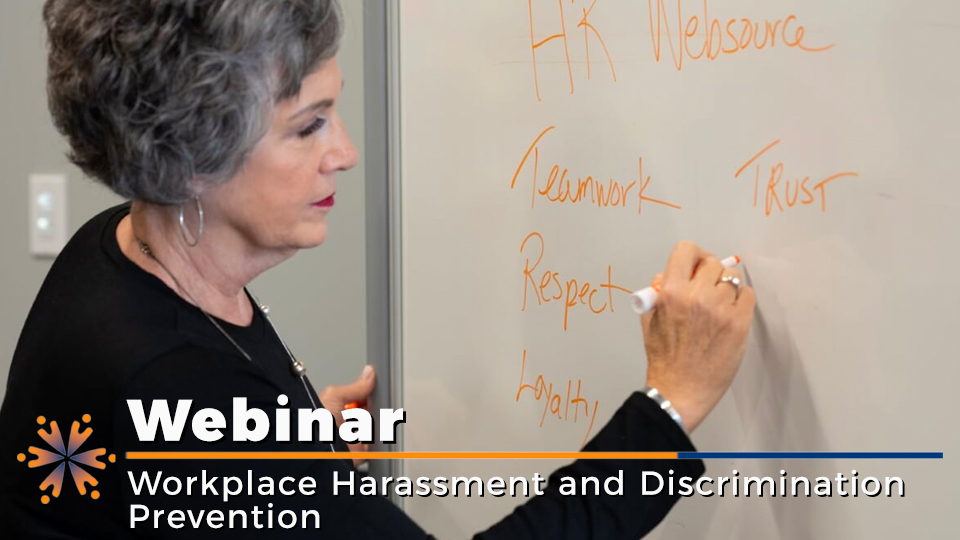 Workplace Harassment & Discrimination Prevention Webinar
This is a comprehensive review of types of Harassment and Discrimination to meet compliance and best practices prevention. This webinar will cover definitions, examples, situations to consider and the processes related to submitting complaints and conducting investigations.  Workplace Violence, Bullying and Whistle blower Policies are also topics discussed and important for all to understand and seek to prevent in any given workplace. 
With the rise in harassment complaints overall, it is wise to be fully educated on the variety of topics related to potentially unlawful behaviors.
NOTE: if you are seeking your training requirement related to Sexual Harassment, see those specific webinars related on this website. This webinar does NOT cover the detail required for such training.
In just 48 minutes your staff can be fully trained on this important series of topics! 
Group discounts are always available, contact JBM for more info.
Retainer clients are FREE..contact JBM for your special custom code.
Need Training for Your Entire Organization?
Discount rates are available for larger quantities.
1-10 $29.99 per person
11-30 - 19.99 per person
31 - 50 10.99 per person
51 plus 9.99 per person
Contact JBM for volume purchases